Robert Allen's Fall Fabric Collection
Fall is just around the corner, even though the hot temperatures make it seem otherwise. As the seasons start to shift, you're most likely already starting to think about all of your fall projects and trying to find upholstery for them. Well, look no further than Robert Allen's new fall fabric collection! With alluring colors and eye-catching patterns, all of your projects will definitely benefit with any one of the offerings from Robert Allen's fall fabric collection. Here are some top choices from the new fall fabric collection:
Epicurean Color Fabric Collection
The heart of Robert Allen's new Epicurean Color Fabric Collection is warm, comforting hues that represent nature's harvest. There are also four new debut Color Library hues, including Oyster, Lettuce, Butternut and Truffle – and all explorethe keen relationship between orange and green in the natural world. From soft organic shapes to playful graphics and exuberant rich color all come to life in a vast array of fabric options that will breathe life into any project. You'll love the folk-like embroideries that many of the crisp linen and chunky cotton fabric options provide. The collection also includes refined wool jacquards and sumptuous velvets, which make for wonderful fall projects of any scope and size.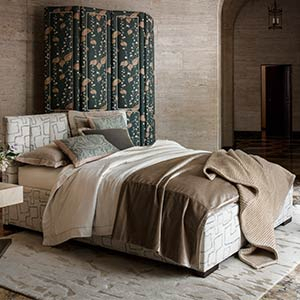 Gilded Color Fabric Collection
The new luminous palette for Robert Allen includes bold neutral colors like brass, patina and tea. But the beauty of this collection is the metallic accents and soft, luxurious designs that celebrate the wide range of sewing and construction techniques found in typical couture garments. From cut velvets to beaded embroidery, you'll love every inch of these fabrics! The watercolor prints are alluring to the eye, while the patterns that are reminiscent of the great Jazz Age and Art Nouveau age will make any project more glamorous. Add romance and glitz to any room with this fabric collection!
DwellStudio
A celebrated brand on its own, DwellStudio has partnered with Robert Allen for this special home fabric collection. Fusing rich colors with DwellStudio's mid-century modern aesthetic, the collection features fashion-forward designs that are stylish and timeless. You'll love the rich colors and array for fabric constructions that the collection offers your many fall projects. The Modern Drama provides fabric options that feature deep, warm hues with touches of glimmer for a modern look. The Modern Bohemian fabrics feature motifs inspired by folkloric traditions, architecture details and historical objects. The Modern Caravan pays homage to the seductive allure of a desert nomad and has a very eclectic feel to it.
About Robert Allen
The company has been around for 75 years and has been serving the residential and hospitality design community with premium fabrics and luxurious upholstery. With offerings that are both relevant and timeless, your upholstery projects will look amazing with any of Robert Allen's fabrics. The Robert Allen story started in 1938 when Benjamin and Esther Weissman founded the company in Boston. They named it for their two sons and pioneered the broad distribution of fabric books. They were also the first to organize fabrics by color.
Their design philosophy starts by seeking inspiration across the globe and working with mills in far-flung spots. They've been able to add thousands of colors to their Robert Allen Color Library through the years, so they'll have any color you're looking for and then some!
It's their dedication to color that makes their fabrics and offerings so appealing. Their designs are influenced by the world of fashion, architecture and even pop culture. They have a beautiful vision of the world and seek to fill it with bold color with each and every upholstery or fabric project you take on!